Welcome to the 2013 Meeting of the SSES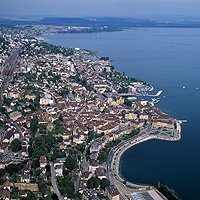 The 2013 meeting of the Swiss Society of Economics and Statistics (SSES) will be hosted by the University of Neuchatel, from June 20 to June 21, 2013. Submissions are solicited both for the meeting's thematic sessions on
The Energy Transition and its Challenges
and for the meeting's general sessions (on any topic relevant to the SSES).
Submissions across a wide range of topics in relevant fields such as economics, finance and econometrics are welcome.
Authors must submit full versions of papers by February 15, 2013. Notifications of acceptance will be sent by email from March 15, 2013.
A selection of contributions to the thematic part will be published in the Swiss Journal of Economics and Statistics. The registration deadline for the conference is April 15, 2013. For further information, please visit the Society's website: http://www.sgvs.ch or the conference website.
We look forward to meeting you in Neuchatel.
The organizing committee:
Mehdi Farsi, University of Neuchatel
Jean Marie Grether, University of Neuchatel
Nicole Mathys, University of Neuchatel
Milad Zarin, University of Neuchatel, Chairman