Welcome to the 2014 Congress of the SSES
The 2014 congress of the Swiss Society of Economics and Statistics (SSES) will be hosted by the University of Bern, from April 24 to April 25, 2014. Submissions are solicited both for the meeting's thematic sessions on
POST‐CRISIS MACROECONOMICS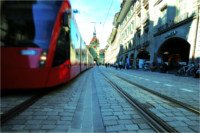 and for the congress' general sessions (on any topic relevant to the SSES).
Submissions across a wide range of topics in relevant fields such as economics, finance and econometrics are welcome.
Submissions will be accepted from November 1, 2013. Authors must submit their paper (full or preliminary version) by January 13, 2014, via the congress website: Paper Submission. Notifications of acceptance will be sent by e‐mail from February 17, 2014.
A selection of contributions to the thematic part will be published in the Swiss Journal of Economics and Statistics. The registration deadline for the congress is March 24, 2014. For further information, please visit the Society's website: http://www.sgvs.ch or the congress website.
We look forward to meeting you in Bern.