How to get there
http://www.usi.ch/en/universita/campus_lugano/campus_lugano_raggiungerlo.htm
By train:
Lugano can be reached easily via Milan (from the South) and Basel or Zurich (from the North).

By plane:
The fastest way to get to Lugano from most places abroad is Milano Malpensa airport. The latter is connected with frequent shuttle buses to Lugano. Other alternatives are to fly directly to Lugano's small airport or to Zurich and to catch a train to Lugano.
Shuttle buses are providing transportation between Lugano and Milano Malpensa airport. Please find below links to the three shuttle bus companies:
http://www.malpensa-express.com
Please note that there is no direct transfer from Milano Orio al Serio airport as well as Milano Linate airport to Lugano. Therefore, we strongly advise you against flying in there, and recommend you to book your flight to Milano Malpensa airport or Zurich instead.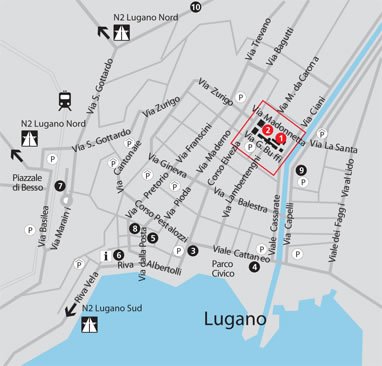 Legend:
USI main building (Centro civico)
USI Aula Magna
Lugano Conference Center (Palazzo dei Congressi)
Public Library (Biblioteca cantonale)
Cantonal Art Museum
City Hall – Piazza della Riforma
Railway station FFS
Central Post Office
Ospedale Italiano (Emergency room)
Ospedale Civico (Emergency room)